Blog by serveher
Hail Mz Devon, a most remarkably wonderful Goddess. Thank You for letting me post to You site and thank You for spending so much time with me tonight, time out of chastity and sharing Your amazing feet on webcam for so long.
i have just finished 21 days confined in tight chastity under the control and direction of Mz Devon. Six days ago She allowed me out after a five day confinement and tonight i was let out for two hours. The six days was a personal record for me and might just be a record for time without sexual release of any kind since my sexual awakening. It was difficult and seemed longer than six days there was plenty of throbbing and aching. When Goddess let me out five days ago, she had me make video clips of both uncaging and recaging to post. Tonight i was hoping and looking forward to being let out but Goddess was not in a big hurry like i was.
Tonight Goddess began by having me spend a hour watching porn, the effect of which was an intense aching and painful throbbing as i strained against the tight and seemingly increasingly tighter confinement. Then Goddess checked the lock number on webcam to ensure that i had been securely confined since being locked up last week. Once She confirmed the lock, i was off to make my uncaging video for Her. The feeling of freedom after six days of being squished into a tight chastity tube was terrific and instantly arousing.

Once Goddess approved of my uncaging clip She kindly spent time speaking with me and giving me a special treat for completing the last six days of chastity. Goddess shared Her gorgeous feet with me on worship cam for what seemed like forever, forever in heaven for a foot lover like me. Goddess feet are absolutely perfect with glistening red toes that just beg to be kissed and licked. Her toes are long, perfectly straight and perfectly proportioned. The tops of Her feet are beautiful without a vein or tendon to be seen, just smooth delicious beautiful skin. Her soles are spectacular with high smooth arches flanked by the slightly darker heel and ball that have a texture just screaming to be rubbed and kissed. The bottoms of Her toes look like delicious grapes, plumper near the ends and slightly darker but just ideally proportioned and perfect for sucking.
i will be dreaming about Her fantastic feet for days on end.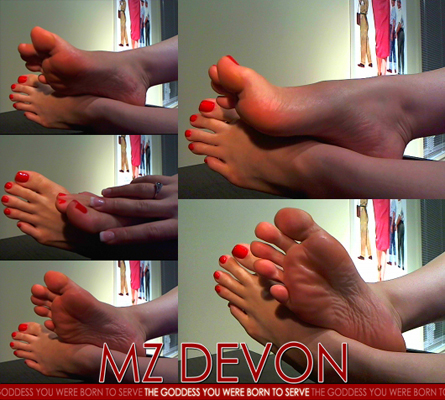 The two hours of freedom granted by Goddess flew by and the release i felt was a tremendous relief of a climax. But Goddess kept me on task by having me video my recaging for posting and there i was locked back up in the chastity device head spinning, filled with images of Goddess perfect feel and a slowly returning dull ache. It all brings mixed feelings about my training in chastity by Mz Devon. The relief and release of my time of freedom is wonderful but sometimes if is so hard to be caged up and throbbing for Her pleasure and amusement. She is so beautiful to look at and perhaps Her mind is even more beautiful and powerful. She couldn't be sweeter but She is always in control and total control of me.

Thank You Goddess Mz Devon for training Your pet cunt and taking control of part of me that needs controlling. Thanks for spending time with me and especially for Your perfect peds and sharing them on worship cam. Hail Mz Devon.
Humbly and submissively,
serveher