Blog by martin goes
Some months ago, I begged on my knees to serve Goddess Mz Devon..I couldn't resist her beauty, her power, her attitude. She doesn't need to raise her voice..just with a smile in her pretty face She can devastate any male. That's what happened to me. I spent heavily, and I had the honor of worshipping this perfect Goddess. And her feet…well..they are the objects of my desired..they drive me insane, crazy, wild..I cannot think, I cannot do anything when I have them in front of my face, and then I look up at Goddess Mz Devon face, smiling, knowing She has all the power and She can make me do whatever She wants..
Then I tried to do the impossible: to resist..I was consuming nearly my entire wage, I was sacrificing everything and maxing out my cc. But then, again, I came back..I watched the clips I bought, and then I started again a spending spree on clips and pics..it's never enough with Goddess Mz Devon. She knows it, and takes full advantage of how pathetic her feminine and seductive power and her lovely Goddess feet makes men like me.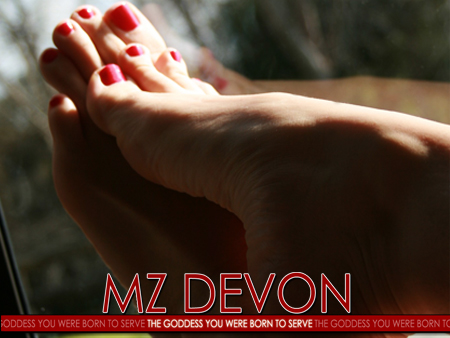 She is the PERFECT Woman, who deserves a life of luxuries, of happiness, all paid by the work of her slaves, begging just for a bone of Her perfection, Her beauty..every slave should be extremely grateful to Goddess Mz Devon for being allowed to worship Her. Just a pic, Just a clip, and the slavery begins..She is everything..a Goddess, a Queen, a Princess..I thank Her so much for this honor..so much..Just for a kiss on Her lovely feet I'd do anything..just to be Her doormat, Her footstool, to have those beauties resting for hours on my back when Goddess Mz Devon relaxes..that'd be the best day of my entire life. But for now I know I don't deserve that, and I'll continue worshipping and obsessing with Goddess Mz Devon stunning feet.
Submission and slavery is not an option with Goddess Mz Devon..once You submit, She has You forever. And when You try to go away, You suffer the worst of the punishments: no more Goddess Mz Devon. So You have to crawl at Her lovely feet and beg, beg, beg, and humiliate Yourself to amuse Her.
The Perfect Woman, the Perfect Goddess..
Goddess Mz Devon, hours ago I thought "never again"..but then I logged into my account, I saw You..I told to myself "one pic"..I bought a pic….and I ended paying $485 and maxing out my cc in half an hour. I really wonder how much power You have..I think that not many people in the world have the power that You have..draining wallets in no time, driving men crazy with Your smile, Your feet, Your voice..it must be wonderful to be a Goddess like You, with many people begging, worshipping and working for You..thank You Goddess for allowing me to be one of them.