Blog by voet
I have been around the "femdom internet block" for quite a few years now, and I was beginning to think I knew what I liked to watch. Because watching and, to some extent, reading femdom related material, is what all of us reading this do for that little fix we so undeniably crave.
I wasn't quite ready for the overwhelming sensations, the racing of my heart, to the point where I could actually hear the blood pumping to my head, the feeling of my stomach sinking to the ground, almost beating my knees in the emotional race, the timestopping mouthdrying feeling that was the consequence of seeing a particular name in my NF inbox – The Goddess Mz Devon.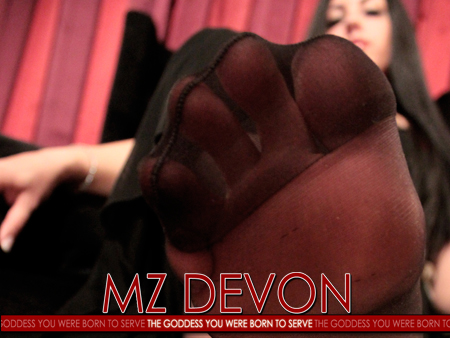 I have tried to understand exactly what it is this Goddess is doing to me, but I can only conclude that the sensations I get, when interacting with this astoundingly capable Goddess, are indeed very real! She just gets into my mind, under my skin, and makes me think of her, her and her, at times when I most definitely, if the opinion of most people on this planet mattered, should be focusing differently!
Goddess Mz Devon, thank You for being more than most, for gifting my life with the gift You´ve got, for allowing me to feel what others have failed to make me feel, and for knowing and using this power over men that you have – at will!
I am most definitely at Your feet…..
voet